In 1971, Ervin Rustemagić – then 19 – had founded the comics magazine "Strip Art," which was published in Sarajevo, Bosnia and Herzegovina (then a part of Yugoslavia), and distributed in the entire territory of ex-Yugoslavia. In 1984, "Strip Art" earned the prestigious "Yellow Kid" Award at the International Comic Convention in Lucca, Italy, for best comics magazine in the world.
"Strip Art," the magazine, was the founding base for SAF - Strip Art Features, the agency which, in the beginning, worked with a small number of authors and sold the publishing rights to their comics to foreign publishers. In mid-1970's SAF started to work very ambitiously with some of the world's leading comics authors. And, in the 1980's, it became one of the world's top five licensing houses, selling rights to comics to more than 500 publishers worldwide.
Sarajevo, the home of SAF's headquarters, became a war-torn city in early 1992. SAF's offices and Rustemagić's house were completely destroyed, and Ervin got trapped in the city together with his family. More than 14,000 pieces of original art were lost in the flames that burned down SAF's offices. The Rustemagić family managed to escape from the war at the end of 1993, and settled in Slovenia, also one of ex-Yugoslav republics. In his graphic novel titled "Fax from Sarajevo," Joe Kubert described and illustrated what Ervin and his family had gone through during the war.
Thanks to his very strong relationships with artists and publishers, many of whom offered him support and help, Rustemagić was able to rebuild his business in a new country (Slovenia), in a relatively short period of time, regaining the same respect and reputation that SAF always had and carefully guarded.
You can read more about SAF in the interviews, afterwords and other articles by clicking on the covers of editions in which they were published…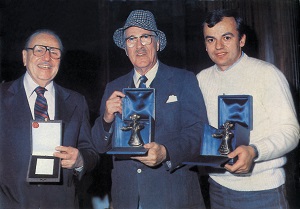 Award winners of the 1984 Lucca Comic Convention: Burne Hogarth, Lee Falk and Ervin Rustemagić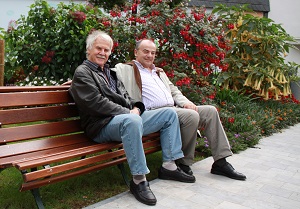 Hermann and Ervin in Malmedy, Hermann's birthplace in the Belgian Ardennes, in September 2010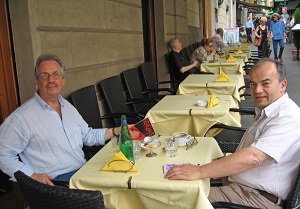 Carlos Trillo and Ervin at the Imperiale
hotel in Rome, where they were meeting every year until this great writer passed away in 2011